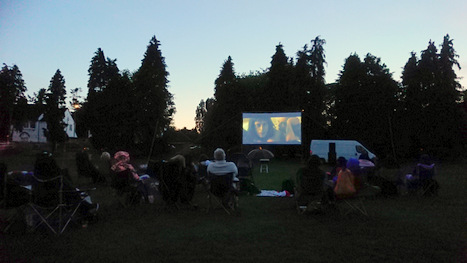 Having your own outdoor cinema is great fun. Your very own movie night! But what do you need to consider to pull it off? How much does it cost, and what separates a good cinema experience from a bad one?
Planning your own cinema in the comfort of your own home is easy, but there are a few things to consider. Lets get started.
The very first thing we need to say - we only use professional industry equipment throughout everything we do. Our projectors are NEC professional WUXGA Full HD units. Our audio is primarily Void Acoustics, a highly respected UK brand of international touring quality. All our kit is over engineered and regularly serviced. Why do we need to mention this? Because we don't cut corners. For every event we do the very best for all our customers from small private garden functions to public events with thousands of people. It's worth remembering this when comparing quotes!
That said, lets get back to business!

The first and most important thing is ambient light. No projector, regardless of its light output can compete with the sun. So you have two options:
1, Use a screen known as an LED video wall, which are expensive, but will allow daytime screenings - we can supply from stock.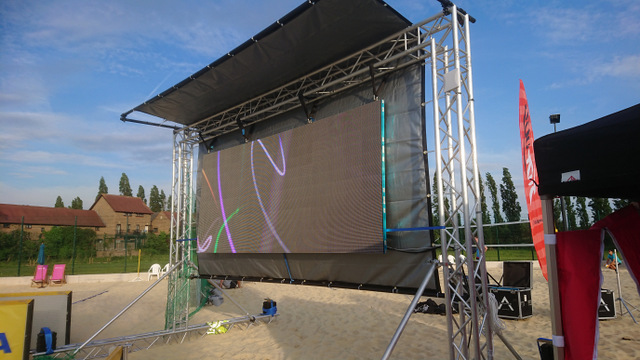 2, Start the movie after sunset.
From experience we have found that half an hour after sunset is a good time to start. This can be a little earlier if the sky is cloudy. Finding sunset times for any particular date is easy. Just use google, here is an example "Sunset in Surrey, 12th August 2020"
Once you have your date and an idea of sensible film times, probably even a film choice - you are nearly ready to speak to a supplier (hopefully us!) but before you do so lets talk about some of the questions we would ask you next.
Do you need audio? How many people are you expecting? Is power available? Will you need any lighting? What format is the film on? DVD/Blueray/Surely not VHS!? :-)
Audio.
We have a mindbogglingly large amount of audio in stock. We can cater for action movies well in excess of 500+ people with the full movie 'impact' experience. Want to actually feel like you are at Wembley Stadium with Freddie Mercury, or in a fighter jet in Top Gun? No problem! But more sensibly, audio is a big aspect of the movie experience, so depending on size of venue, choice of film we can provide you with something affordable and sensible.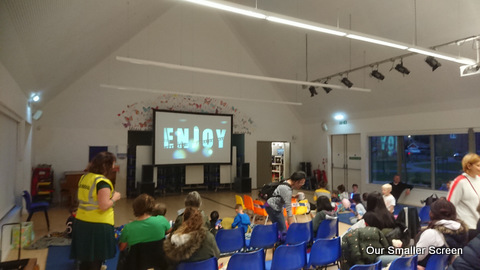 Audience size
This we ask simply to get an idea of the scale of the event, and helps us to guide you with any logistical help. It also effects what screen we would recommend choice of audio. We stock two types of screen. Our smaller one is approx 9x6 feet plus the stand, and is great for up to 100 people, and our large screen is 16x9 feet plus the base, and is easily capable of 250+ viewers but we have used this in small screenings for a really intense film experience. Wind is a consideration with all outdoor screens. We need to be able to guy the screens down if necessary.
Power
We can run the majority of outdoor cinema events from a single 13A socket, unless its a high impact movie where we may require more power for audio. So we can organise our cable & power requirements, we will ask what the power availability is. No problem if there is none, we can supply generators.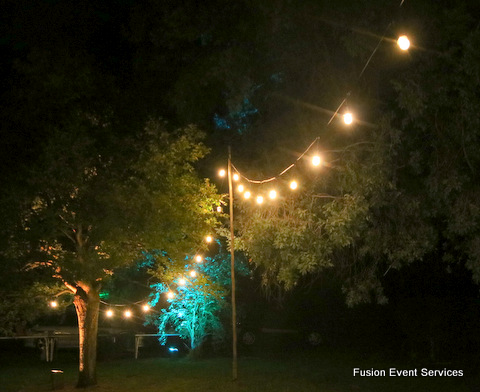 Lighting
We ask this just to make you aware we can provide outdoor uplighters and festoon lighting for that extra added bit of quality to your event.
Media format
We like to be organised, and so will ask what film you are playing on the night. We will then usually where possible load that onto our system before we arrive so that we are all ready to go and we know the media works. We also offer the option of special media requests. Do you have a special photo or video (if its a birthday or other celebration!) for before or after the movie you would like us to play! We can do it!
Naturally with the video production. we take a very professional approach in this respect. We have built our own specific "cinema system" Its a dedicated rack of video kit - a production studio in a box. It allows us to play videos/clips/images/slides before or after a film. Great for a birthday party or corporate event! We can even plug in a radio mic system and more. So have a chat with us if you would like something unique created for you.
Weather
In the UK it rains - sometimes a lot, Do you need a plan B? Obviously if the weather looks horrendous, we will work with you as best as possible, even with changes of dates assuming we have dates available. That being said, it won't usually stop us screening a film if you want to go ahead, and as much as the weather can spoil outdoor events, some of the most rememberable ones we have done have been partly due to persevering through bad weather!
Licencing
Depending on the type of event, you may require a film screening licence. For private parties, with friends and family, you don't need to worry. However if you are a membership club or venue, you will need to organise this. Get in touch and we can help.
How much does it cost?
Packages start at £300. We will quote you individually for a given event, so please get in touch!
Hopefully we have been able to convey our enthusiasm with these kinds of events and also hopefully demonstrate how much we put into our equipment in order to bring you the very best experiences. This is what we believe separates us from the rest. We love to chat, so if you are planning an event and think we may be able to help give us a call or email and lets see what we can do for you.
Last updated June 2020