Years ago (!) our founder would often be found playing with speakers and amplifiers as a child. This obsession grew and led to what eventually became what Fusion is today. Sound is at our core, it is something we are still very passionate about.
In a world of black boxes and increasing competition from cheap kit, we settled upon Void Acoustics as our choice of speaker system. Void is a British company and relatively new to the market having been founded in the early 2000's. Their incredibly innovative and dare we say it slightly out-there approach to the professional sound reinforcement industry has found them fans throughout the world with there striking, unique designs, and incredibly stunning sound.
Note, all our speakers come with front grills, the pictures below are manufactures marketing material.
Full range speakers:
Small:
Void Mycro 8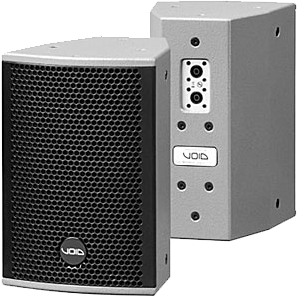 We have these available in black or white. They are ideal for corporate events, meetings and presentations. When supplemented with one either a single 112 or even one or two Venu X, they are equally ideal for small parties to medium, weddings and functions. They are fantastically well made and sound equally good. Frequency response: 52-21,000Hz, 300 watts RMS, 122 dB continuous 124 dB peak, 12Kg.
Medium:
Void Stasys 2/Impulse 4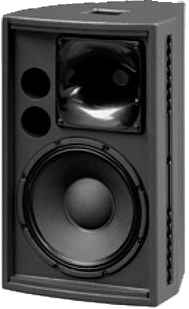 These are workhorses. A 12 inch driver with a 1.5 inch horn loaded tweeter. These are equally at home as a FOH speaker for parties/events/functions as they are a stage monitor. Currently we have these available in black with white to follow soon. When paired with our Impulse 5 bass speaker, this is a very potent system for parties of 1-200 people. Frequency response: 52-20,000Hz, 500 watts RMS, 127 dB continuous 130 dB peak, 27Kg.
Large
Void Impulse 3T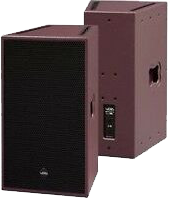 These are beasts. We uses these for all our outdoor events, or big indoor events. These Bi-Amped top cabinets have a great throw to them with a 60hx35v degree dispersion. We have on several occasions used these to cover outdoor events such as firework shows of 1000-2000 people. Combined with our Syasys XV2 bass bins, a pair of these will do night club levels of sound for up to 300-500 people, or many more for more sensible audio levels. Frequency response: 60-21,000Hz, LF 500 watts RMS, MHF 300 watts RMS, 128 dB continuous 131 dB peak, 39Kg.
Bass speakers
Void Venu Bass / Venu 112

Single 12inch 600W RMS Bass speaker.
Ideal for smaller private parties when paired with our Mycro 8 tops. Frequency response: 40-160Hz,  123dB continuous 129dB peak, 600Watt RMS, 24Kg.
Void Venu X / Venue 212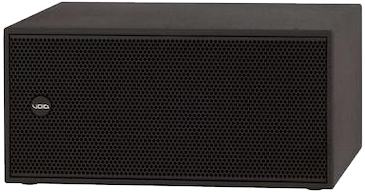 Dual 12inch 1200w RMS Bass speaker
One of these or even a pair with the Mycro 8s, or with a pair of Stasys 2 tops for more intense bass, or larger private functions, weddings and birthday parties.
Frequency response: 34-160Hz,  128dB continuous 131dB peak, 1200Watt RMS, 44.5Kg.
Void Impulse 5i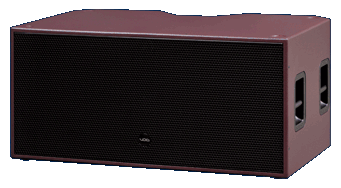 Dual 15 1200w Horn Loaded Bass speaker
Typically suited for larger indoor spaces or out door, the horn loaded speakers direct the bass to where its needed. Also without the front cover offers a very striking view for DJ's and smaller events. Frequency response: 55-165Hz,  136dB continuous 140dB peak, 1200Watt RMS, 99Kg.
Void Stasys XV2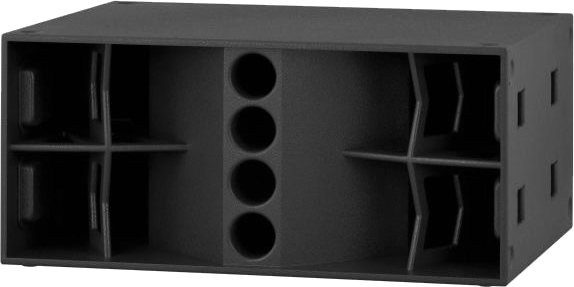 3200w Dual 18 Horn Loaded hybrid bass speaker.
Void took their original Stasys X and turbocharged it. These double updated double 18's feature a revised internal layout greatly improving group delay whilst also playing louder and lower and harder than the original with a staggering 3200w RMS power handling. Like the original Stasys X these can have the covers removed for that fantastic iconic Void look. As equally at home in large clubs and patries as they are on Festival and stage events, this speaker provides a tight non compromised in your face level of bass all the way down to 30Hz. Frequency response: 30-180Hz,  138dB continuous 142dB peak, 3200Watt RMS, 130Kg.
Amplifiers
The vast majority of our amplifier stock is from Crown and Void. Please see below for specifications:
Crown I-tech 6000
These highly efficient Class I

1500W @ 8Ω Stereo (per channel)
3000W @ 4Ω Stereo (per channel)
2500W @ 2Ω Stereo (per channel)
5000W @ 4Ω Bridged-Mono
6000W @ 8Ω Bridged-Mono
Crown MA12000i

Stereo Amplifier
2100W @ 8Ω Stereo (per channel)
4500W @ 4Ω Stereo (per channel)
6000W @ 2Ω Stereo (per channel, 20ms Burst)
7500W @ 4 Ohm Bridge-Mono
9000W @ 8 Ohm Bridge-Mono
Void Kryo K5.4

4 Channel Amplifier
430W @ 8Ω (per channel)
670W @ 4Ω (per channel)
980W @ 2Ω (per channel)
2x 1340W @ 8 Ohm Bridge-Mono
2x 1960W @ 4 Ohm Bridge-Mono
Void Kryo K5

Stereo Amplifier
460W @ 8Ω Stereo (per channel)
790W @ 4Ω Stereo (per channel)
1190W @ 2Ω Stereo (per channel)
1580W @ 8 Ohm Bridge-Mono
2380W @ 4 Ohm Bridge-Mono
RCF DCA-250

Stereo Amplifier
75W @ 8Ω Stereo (per channel)
100W @ 4Ω Stereo (per channel)
200W @ 8 Ohm Bridge-Mono
200W @ 2 Ohm Parallel-Mono
Mixers
We have various mixers to suit different applications. From live audio to DJ we have it covered.
Denon DM-MC6000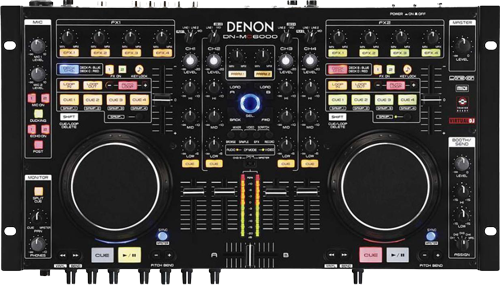 This is a 4-Channel, 4-Deck, 8-Source Premium Digital/Analogue Hybrid Mixer. Ideal for use with Virtual DJ or Traktor Software. It also acts as an analogue mixer and has 4 analogue stereo inputs suitable for both CD's and Turntables. Finally this is complimented by two balanced microphone inputs. These mixers are incredibly reliable, flexible and professional, making them ideal for all sorts of live events.
Soundcraft Signature 12 MTK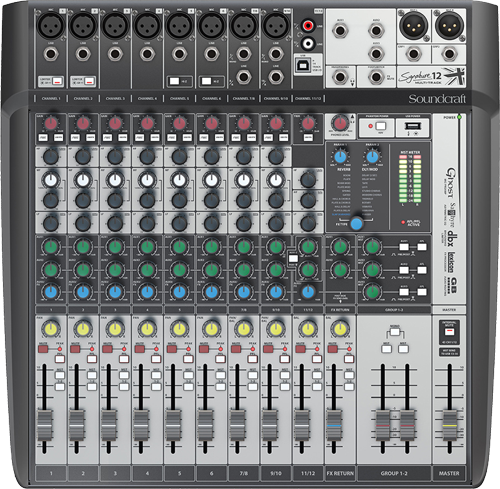 The Signature 12 is a 12 channel analogue mixer with a 14-in/12-out ultra-low latency USB playback and recording interface.
Iconic Soundcraft® Ghost mic preamps with ultra-low noise performance
Renowned Soundcraft® Sapphire British EQ with sweep-able mid-bands per channel
Lexicon® Effects Engine featuring award-winning Reverbs, Delays, Choruses and Modulations
dbx® Limiters (High-ratio Compressors) on input channels
Switchable Hi-Z inputs for guitars, basses and other instruments
Hi-Pass Filters (low-cut) and 48V Phantom Power on all mic channels
Comprehensive Soundcraft® GB series audio routing with Auxes (flexible pre/post switching) and subgroups with switching and dedicated outputs
Smooth premium-quality faders
Presonus Studiolive RM32ai + CS18ai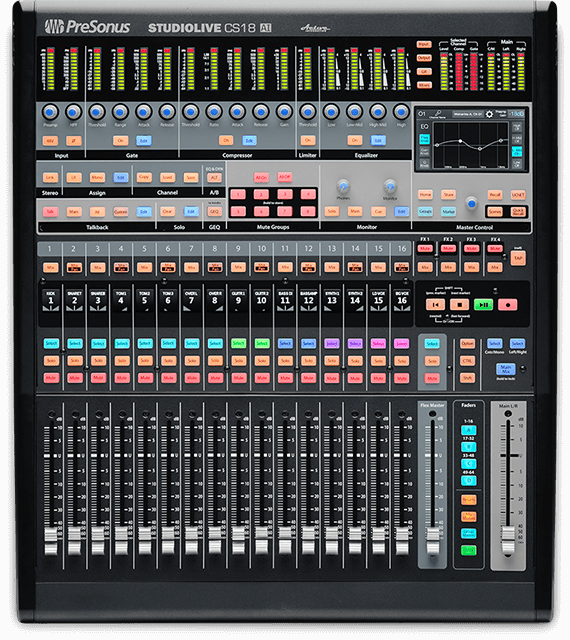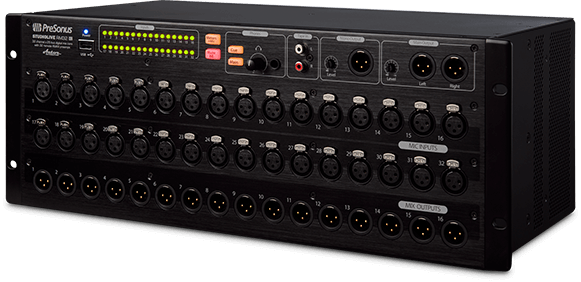 Versatile and flexible for live and recorded sound.
Equally at home in houses of worship, schools, broadcast facilities, live venues, touring rigs, and recording studios, the PreSonus® StudioLive® RM32AI 32-channel, 25-bus, rack-mount Active Integration digital mixer is a versatile and flexible solution for live sound and recording. StudioLive RM32AI mixers are expandable up to 64 channels, flawlessly integrated with state-of-the-art software, and boast an integrated multitrack recording interface, advanced AVB or Dante™ networking, and multiple control options. Yet they're easy to use, with a workflow that will let you focus on mixing, without being distracted by the technology.
Networking provides remote control, recording, and more.
Powerful, real-time, wired and Wi-Fi networking enables recording and remote control over all StudioLive RM32AI features. Use the included AVB networking connection or choose optional Dante networking. Control your StudioLive RM32AI wirelessly from anywhere in the venue using free Mac®, Windows®, and iOS® software. Network the RM32AI to a StudioLive AI-series front-of-house console, using the rack-mount mixer as a stage box and monitor mixer. Send and receive networked audio via optional Dante for multitrack recording. Connect to hundreds of Dante-enabled products.
Control the mixer with hardware and software—from anywhere.
Thanks to PreSonus Active Integration, StudioLive RM32AI mixers can be controlled in multiple ways simultaneously so you can customize your system to suit your needs and workflow. Control the mixer over a wired or wireless network using an array of integrated software for Mac, Windows, iPad and Android. Add physical control with PreSonus' StudioLive CS18AI Ethernet/AVB control surface, which features high-quality, touch-sensitive, motorized faders and far more mixer-control features than we can list here
You can read more about these mixers here.
Microphones:
We stock a wide range of wired and wireless Shure microphones:
Shure PG A Drum Kit 4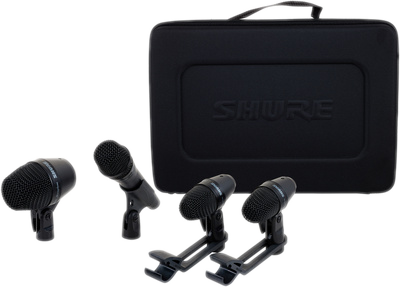 PG Alta series
1x PGA 52 Bass drum microphone
2x PGA56 Snare/tom microphones
1x PGA57 Snare microphone
Incl. 2x Tom mounts and case
Shure Beta 58A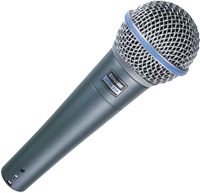 Big sound. Full sound. Sophisticated sound. Is your mic living up to the power of your vocal? For decades, the BETA® 58A has been through the ringer, pushing voice to the limit on the biggest stages in the world. For sound that commands the attention of the entire crowd, this is your microphone.
Shure SM58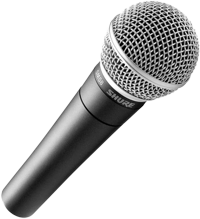 If you've ever heard someone sing or speak into a live microphone, there's an excellent chance it was an SM58. Rock stars. Pop idols. Comedians. Presidents. Popes. Immortal words have passed through its iconic grille for generations. And with engineering and durability that set the world standard, it's sure to keep turning up at legendary performances.
Shure PGA57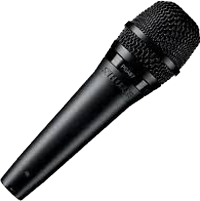 Cardioid dynamic instrument microphone delivers clear reproduction of the sound source in close-miking and acoustic drum applications.
Wireless:
Shure BLX288/Beta58 Combo 863-865MHz (Licence exempt)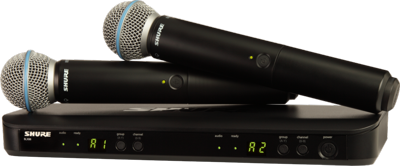 When performance is set free from wires, it can go to exciting places. But noise and dropouts can stop it cold. BLX® Wireless makes it simple to get great sound out of a dependable wireless system. And when you can go wireless without worry, you can perform without limits. We stock the BLX in the licence free band for UK usage. This simple system is great for where you just need easy wireless mics without the worry.
Shure SLX Wireless System (606-630Mhz)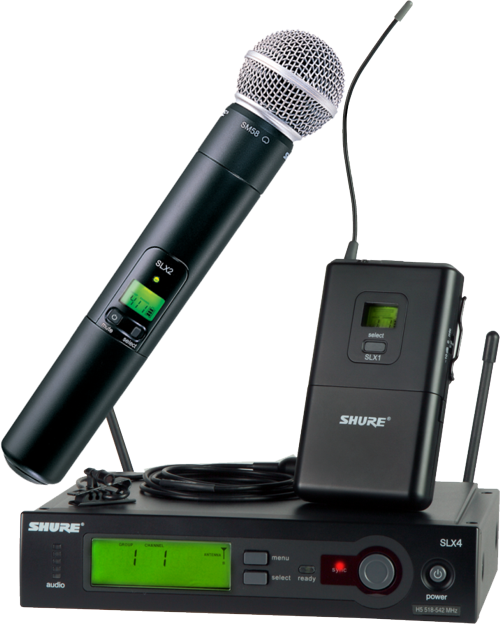 We stock a wide range of Shure SLX wireless components, including a choice of capsules including SM58 and Beta58A. We also have belt packs and lapel mics, or wireless instrument transmitters. All of our SLX range operates in the 606-630Mhz licenced band to help against interference in the crowded free for all frequencies. The rugged SLX Wireless System bring unparalleled ease of set-up and exceptional audio quality into reach. With a wide selection of legendary Shure microphones to choose from, SLX offers a tailored solution for virtually any application.